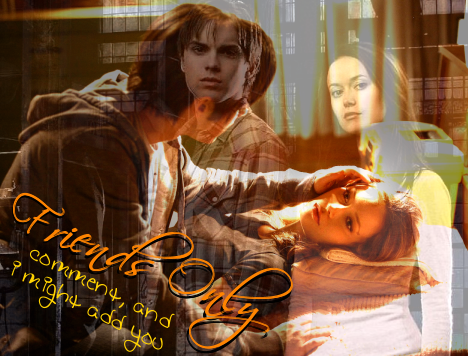 Thanks to
missi_marie
for the lovely banner. Comment letting me know where I know you from/how you found me and I'll probably add you.
And here is *another* drabble series. *bows head in shame* I've actually FINISHED this one though. And it goes together, as in one relates to the next and there is continuity. This one is for the LJ community
10_hurt_comfort
who are amazingly nifty. Below is the table that I am required to link to, so I will do that for the purposes of the community instead of posting them individually here. I'm going to spread out the posting on ff.net so they'll all be up eventually.
`Title: Mistakes
Fandom: TSCC
Rating: M

Warning: Language, violence, some suggestiveness and adult themes. (No blatant sex though, for once on an M-rated story of mine. )
Genre: Angst/Hurt/Comfort
Pairing: John/Allison
Spoilers: Somewhat for season 2
Summary: In war you make sacrifices and you always save yourself, no matter who or what will be destroyed in the process.
A/N - Not compliant with the season 2 finale.
War.
Need.
Distress.
Burned.
Loss.
Save Me.
Desperation.
Betrayed.
Lonely.
Regret.

2/10
Title: I'm Fine
Fandom: TSCC
Rating: T
Genre: Romance/Angst
Pairing: John/Cam. Sarah/Derek.
Spoilers: For Seasons 1 & 2.
Summary: A series of mostly unconnected drabbles and short pieces.
Note - There may be more or less than 50 - it's just what the table went up to.
I have added 9 chapters since the posting of the table, therefore I have re-dated this so it would be closer to the top. *_*
Title:: Eraser Shavings - A Story in Four Voices
Rating: T
Genre: Angst
Pairing: None.
Summary: I stand in the doorway, watching my daughter go through dozens of erasers and I bring her more, knowing that none of it will help.
Note: Written for a contest on The Muse Bunny.
Word Count: 2,102



(
Story!
Collapse
)
Current Mood:

accomplished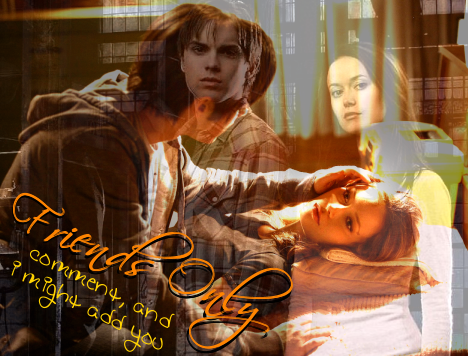 Thanks to
tin_miss_icons
</lj> for the lovely friends only banner!
Current Mood:

artistic
Not a damn thing. Not one word. Not one letter. Not even one good idea.
Will there ever be a post that isnt nano? Yes. In December.

Well day 9 was pretty good, though I've discovered that by midnight tonight to be on par I must have 16,670 words. This means I need to do 2,816 today. Go fingers and brain go!
Day9
Word Count - 1,454
Total Word Count: 13,854
Goal? -213
Current Mood:

crappy


Day 8

Word Count - 1663

Total Word Count - 12,400

Goal? -4
Day 8 was much more productive than days previous, but still not my best.
Current Mood:

uncomfortable


Word count: 728

Total Word Count: 10,737

Goal? - Nooo clue.
Day 7